One of the things that I love best about Pickleball Kitchen is that I get to teach everyone in my local area about pickleball paddles. But what's even better than that is that I get to see the excited and relieved faces on people after they've tried a paddle that I've recommended. Most beginners that I've met don't care if they win or lose, they just want to play well.
Unfortunately, a lot of beginners use paddles that don't fit them at all. It's like playing hockey with golf clubs instead of hockey sticks. It just doesn't work out so well.
I get it though. I used a paddle that didn't fit my strengths at all for a long time until I started researching pickleball paddles. It wasn't a huge problem, but I could have gotten a lot easier start in the game if I had some advice along the way.
But enough about me. What about you? Are you a beginner that needs help choosing a solid beginner paddle for you?
What does a beginner paddle look like exactly?
In pickleball, it's hard to delegate a paddle as being for beginners or advanced players. Most paddles can be used as both a beginner, advanced or even pro option. But there are some paddles out there that you'll want to stay away from if you're an absolute beginner. The list below doesn't have any "advanced only" paddles on there, so you're safe to use any of them.
Let me give you a quick list of things to avoid as a beginner:
Avoid long-board paddles. These are the ones that look long and skinny instead of wide. These require a much greater degree of accuracy.

Avoid nomex and aluminum core paddles. Just stick with polymer core paddles.

Avoid wooden paddles if you can.

Unless you need the cheapest options, avoid paddles under $30. They're not made well and thus not worth getting if you're going to play a lot.

Avoid paddles that are over 8.5oz in weight.

Similarly, avoid paddles that are under 6oz in weight.
Typically, beginner paddles are widebody, have polymer cores and don't have any niche or industry unique characteristics to them. They're just plain ole' paddles. Perfect!
Having said that, here is the most important factor in choosing a pickleball paddle for you. The #1 aspect to consider when choosing a pickleball paddle is weight. Weight is everything when shopping for paddles. I can go into the minute details of the different types of paddle cores, faces, grips, weight balances and so on, but nothing is as important as weight!
Remember, the heavier that paddle is the more power you'll have. Vice versa, the lighter the paddle, the less weight you have. But keep in mind that if you're not strong enough to use a heavier paddle, then you'll get neither paddle nor control.
A paddle weighing 7.5oz is considering to be a "midweight" paddle. The vast majority of players can use this weight comfortably. Paddles weighing around 6.7 – 7oz are typically made for people with wrist and arm issues such as arthritis or tennis elbow. Similarly, heavy paddles weight around 8.3 – 8.5oz is typically for men or strong women.
In general, staying in the 7.4 – 7.8oz range will give you the best results. But don't be afraid to go lighter or heavier than that. It's always good to test out different types of paddles!
Ok, enough talk! Let's get started!
#1 Pick: Paddletek Phoenix LTE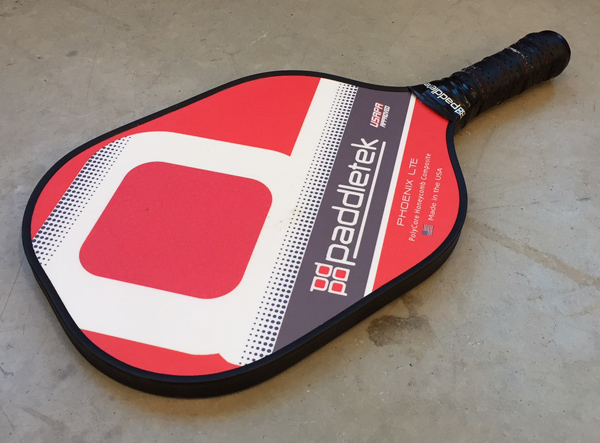 This is my favorite beginner paddle pick. I played with this paddle for about a month and was shocked at how much I loved it. The reason why I'm shocked is that it's a feathery 7.2oz paddle. That's pretty lightweight. I'm a 31-year-old dude who can hit the ball pretty hard so the fact that I'm able to use this paddle comfortably is surprising, to say the least. Let's take a closer look.
Specifications:
Core: polymer

Face: composite

Average weight: ~7.1oz

Paddle length: 15 3/4″

Paddle width: 7 3/4″

Grip circumference: 4 1/4″

Grip type: Gamma perforated ribbed

Handle length: 4 1/2″

USAPA approved
Let me just saying something right off the bat. If you're a former ping-pong player, this paddle is going to be a great fit for you. You may not be able to get as much spin with this paddle as you would a paddle with a fiberglass face, but the amount of ball control you get is enormous.
The polymer core and composite face combination of this paddle make for a brutally accurate and sneaky force to be reckoned with. If you're strong and you like quick shots that leave people in shock, you will love this paddle. However, considering the lightweight nature of this paddle, you will certainly lose a chunk of power.
Indeed, this not a power paddle. Rather, the Phoenix LTE helps you control the ball softly and precisely, but the feathery nature of it allows you to stab the ball with great precision.
The other amazing thing about this paddle is that even though an advanced player can use it, it's still perfectly suited for a beginner. As I said earlier, this paddle is soft, easy-going and light on the arms. This is perfect for older women or people who don't want a power game, but just want to dink comfortably at the net. It can even be a great choice for young children ages 6-11.
For former ping pong, precision, or older beginner players, the Paddletek Phoenix LTE is a great choice. Again, I have used this paddle a lot and love it. That's coming from a guy who typically wields 8oz power paddles! The Phoenix LTE comes in blue and red.
#2 Pick: Selkirk NEO
In the world of Selkirk, the NEO is considered their "beginner paddle". They couldn't be more accurate about that. It's a decent paddle, affordable and will last you a long time.
Specifications:
Core: polymer

Face: composite

Average weight: ~7.8oz

Paddle length: 15 3/4″

Paddle width: 7 3/4″

Grip circumference: 4 1/4″

Grip type: Gamma perforated ribbed

Handle length: 4 1/2″

USAPA approved
Not every beginner should pick up this paddle though. The Selkirk NEO favors aggressive and more power hungry players. If you've got an itch to drive and smash the ball, this is going to be a great paddle for you without spending too much.
Believe me, you can spend over $100 on power paddles if you really want to. But you don't need to as a beginner quite yet. Starting out with the NEO will give you a taste of what playing a power game is like.
Ok, I need to level with you. All I wanted to do when I first started playing pickleball was to just smash the ever living daylights out of the ball every time. It was so much fun.
Until I realized that I wasn't winning.
Then it became not so fun.
That's when I made the switch to a game focused on dinking, ball placement and precision. I had to buy an entirely different paddle for that.
But here's the thing, the Selkirk NEO can compliment your power phase, but also the inevitably switch to the dinking and ball control phase. It can do both, but of course not as well as the Element or the Tempest Wave below. This is what makes this paddle so great for beginners. It goes on your beginner pickleball journey with you.
In general, if you're looking for a cheaper paddle, enjoy your power game, but want to make sure that you have some control over the ball, then this paddle is going to be a great choice for you. Just like the Phoenix LTE, the Selkirk NEO comes in blue and red.
#3 Pick: Paddletek Element
Surprise, it's another Paddletek creation! Don't be surprised though because Paddletek is one of the best pickleball paddle manufacturers around. They've made another great pickleball paddle called the Element.
Specifications:
Core: polymer

Face: fiberglass

Average weight: ~7.6oz

Paddle length: 15 5/8″

Paddle width: 7 3/4″

Grip circumference: 4 1/8″

Grip type: Gamma perforated ribbed

Handle length: 5″

USAPA approved
Out of all the paddles on this list, the Paddletek Element is what I would call the best "all around" paddle. It doesn't have a lot of strengths, but it doesn't have a lot of weaknesses either. It's not too light, but not too heavy. Has decent power, but decent finesse as well. You get the idea.
There is one unique trait the Element has and that is the fiberglass face. Fiberglass faces make a paddle feel softer, almost squishier if you will, while generating more power and especially more spin.
Lots of spin.
Personally, I love playing around with fiberglass faced paddles because you're able to maneuver the pickleball in such extreme ways. It's so much fun.
This is great news for tennis players and why I recommend this paddle for them. The increased spin makes those tennis-style forehand and backhand shots much more powerful. Not only that but the 5" long handle will give you room for a 2-handed backhand drive.
Generally, the Paddletek Element is great for people who want a "middle of the road" paddle that is midweight but also gives you plenty of power and control. You can read more about the paddle here.
#4 Pick: Rally Tyro 2
I want to be completely upfront with you here. I have not used this paddle, but I have seen it in action. One of the reasons why I have this paddle listed is because of the incredibly cheap price.
Out of all the composite paddles available, the Rally Tyro 2 is one of the cheapest paddles available. If your budget is tight, this paddle by Pickleball Central will be a great fit. But keep in mind, this paddle is not USAPA approved! Which means that you cannot participate in any USAPA sanctioned tournaments with this paddle.
Specifications:
Core: polymer

Face: polycarbonate

Average weight: ~6.6oz

Paddle length: 15 5/8″

Paddle width: 7 3/4″

Grip circumference: 4″

Grip type: Perforated cushion

Handle length: 5″

NOT

USAPA approved
The other reason why I have it listed is because it's not only one of the cheapest polymer paddles on the market, but it's also one of the most lightweight. Needless to say, a 6.6oz paddle is very lightweight. If you lack a lot of upper body strength or have severe hand and wrist limitations like arthritis, then this will be a great beginner's paddle for you.
If you have previous racket sports experience, then I would stay away from this paddle entirely unless you need one of the cheapest options available.
Although you won't get much quality out of this paddle, you can get a lot of value out of the bundles Pickleball Central offers. They offer this paddle in sets of 2 that includes balls! That is great value in case you have a family or a group of friends who want to get started for cheap. Also, you can upgrade from there by getting the 4 paddle bundle that includes an actual pickleball net and balls.
#5 Pick: Paddletek Tempest Wave
I didn't put this paddle at the bottom of the list because it's low quality. Believe me, nothing about the Tempest Wave is low quality. The reason why I put this at the bottom of the list is because this paddle is expensive. It will require you to shell out some cash, but it's worth it if you know you're going to be playing for a long time.
Specifications:
Core: polymer

Face: graphite

Average weight: ~7.6oz

Paddle length: 15 7/8″

Paddle width: 8″

Grip circumference: 4 1/4″

Grip type: Perforated cushion

USAPA approved
This paddle is perfect for the "beginner". I put the word beginner in quotes because in pickleball, a "beginner", is someone who already has a ton of racket sports experience, but just needs to figure out the rules and general strategies. These kinds of beginners don't need much instruction on how to hit the ball or anything similar. This is even better if you have that experience, but you also know you're going to be playing pickleball for a long time. If you're one of these people, this paddle is perfect for you.
The Tempest Wave is one of the best and most popular paddles on the market. It is great for everyone and has virtually no downsides. Sure, Paddletek could slap a fiberglass face on there to make it more powerful, but it would ruin the near-perfect weight balance it already has.
Although it's one of the best, it's also one of the most expensive. But believe me, you get enormous value for the money spent. If you're looking to get a rock-solid start to your pickleball journey and you know you're going to be playing for a very long time, the Tempest Wave is perfect for you. This paddle comes in a variety of colors and also comes in a special "2017 US Open" version. You can check it all out here.
In closing
I hope that this article has been helpful for your paddle searching endeavors. Let me know what paddle you end up going with, or you have any other options in mind. I would love to hear about it!